Apple's iBeacons in the service of sport and stadiums
This article was written by Mathieu Benardeau, Traffic Manager at Mozoo Group.
Deployed in September 2013, Apple's iBeacon technology only recently found its audience. Indeed, many sectors start seeing in this '20-to-30-meters-parameter' geolocation technology a new way to promote products or even services.
The iBeacon technology is based on a new class of transmitters that can notify their presence on nearby Android, iOS 7 and 8 devices. This technology allows an iOS device or other to send a signal to another iOS device nearby. In summary, it is a very accurate and powerful geolocation system that will allow brands and stores to send push or other customized notifications regarding products and services for sales nearby the user. According to the "Beacon Reports", this technology has already been adopted by 8% of the Top 100 US retailers. Announced as a game changer for advertisers, these transmitters could be present in 85% of US stores by 2016.
In addition to the retail industry, it is the sport industry that wants to offer a new experience for fans by installing this technology in stadiums. In fact, the American Baseball league was one of the first iBeacon users in the world. Since late March 2014, the majority of the 30 MLB stadiums are equipped with transmitters related to the 'At the Ballpark' mobile application.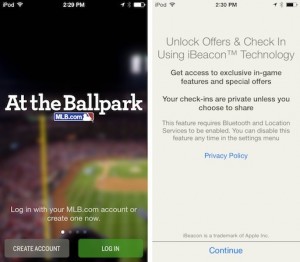 The application emphasises fans' experience thanks to the combination of smartphone technology with iBeacon technology. Fans are geolocated in the stadium, and can therefore access many services such as managing tickets, ordering food and drinks from their seats, automatic check-in at the stadium entrance or even receive a seat upgrade proposal if seats are available.
Now that the testing phase is over, clubs are taking the measure of embodying the potential of the technology and are hence offering interactive and further personalized content via their mobile application. Given that stadiums have become genuine shopping malls, brands can choose to offer promotions to fans using push notifications while targeting the most appropriate audience.
On top of baseball, the NBA jumped on the iBeacon bandwagon and recently started using Apple's new technology. Indeed, Orlando Magic and Golden State Warrios installed transmitters in their stadiums in order to offer their fans further experiences.
Europe, often lagging behind the US in terms of technological innovations, is also deploying the iBeacon technology. For example, the Dublin Leinster Rugby club started used the technology in order to offer discounts, special offers and eventually mobile payment solution to their fans.
A French start-up named Ubudu aslo recently developed a new solution enabling a bidirectional communication between smartphone and iBeacon. The start-up has managed to enhance exchanges between these two technologies in order to circulate more information. Especially data on client's activity: whether they entered the stadium in the last amount of minutes, or visited a particular shop before returning to their seats… Clients can provide this data in both a passive and active way. They can for example ask for assistance to find their place. Or, conversely, some clients can be welcomed as VIPs because the stadium's cloud spotted their entrance.
iBeacons therefore allow advertisers to grow one-to-one relationships with consumers in a way that fits both their lifestyle and habits. Infrastructure digitalisation and 'web to store' solutions are great tools to create successful branding experiences, providing their digital ecosystem remains under control.